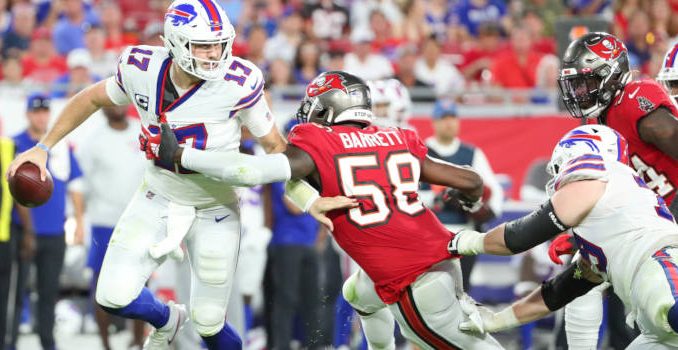 Being the first MNF game of the 2023 NFL isn't the only reason why Buffalo Bills vs. New York Jets should be a real spectacle. The players from both teams will be fired up as the game is taking place on September 11, not to mention that its venue is MetLife Stadium, the largest NFL arena that can host roughly 82,500 spectators.
Those who come to MetLife Stadium on Monday evening really are in for a spectacle. The Buffalo Bills – who've become a sort of an eternal bridesmaid of American football – want to start their 2023 campaign with a big win that would give them confidence for the rest of the season.
They're favored to beat the Jets, but it won't be easy as the NY-based side looks stronger in 2023 than its' been in years. The main reason for that is that Aaron Rodgers is their quarterback, and he's making his debut in the Bills at Jets game on 9/11.
Buffalo Bills vs. New York Jets Odds
| Spread | Odds |
| --- | --- |
| Buffalo Bills -2.5 | -110 |
| New York Jets +2.5 | -110 |
| Moneyline | Odds |
| --- | --- |
| Buffalo Bills | -136 |
| New York Jets | +116 |
| Points Total | Odds |
| --- | --- |
| Over 46.5 | -110 |
| Under 46.5 | -110 |
*Odds taken from FanDuel on Thursday, September 7.
When, Where, and How to Watch?
Place: MetLife Stadium in East Rutherford, New Jersey
Date: Monday, September 11, 2023
Time: 8:15 PM ET
How to Watch: ABC
Buffalo Bills to Show They're Still Super Bowl Material
The Buffalo Bills have constantly been discussed as one of the top favorites to win the Lombardi trophy. Actually, ahead of the start of the previous season, they had the shortest Super Bowl odds of all teams. However, their dream came to an end in the divisional round in which they got obliterated by the Cincinnati Bengals.
They lost that game by 17 points, which was their worst loss of the entire campaign. The three losses that they suffered in the regular reason all were by just three points. But there's an explanation why that happened – just a few weeks before that game, they witnessed one of their teammates (Damar Hamlin) suffer a heart failure on the field.
Knowing this, no one can blame them for not going to far in last season's playoffs. But they might go far this year. The core of the team is still there, while their roster has been made stronger in the offseason with the addition of rookie tight end Dalton Kincaid. They also signed guard Connor McGovern who previously played for the Dallas Cowboys.
What needs to worry the Bills, at least slightly, is that their division has gotten much tougher. The Miami Dolphins have grown into a team with Super Bowl ambitions, while the New England Patriots are always a force to be reckoned with. Plus, the fourth team from the AFC East, the New York Jets, now has Aaron Rodgers on its roster.
Aaron Rodgers Making His Jets Debut in MNF
Although he's already played for the Jets in pre-season, Aaron Rodgers is making his proper debut on September 11. The quarterback who's turning 40 in December previously played for the Green Bay Packers for 18 years, leading the team to the Super Bowl win in 2011.
Now, he's a part of the Jets roster, but he's not the only former Packer who's made New York his new home. In addition to the four-time NFL MVP, Randall Cobb has also left Lambeau Field for MetLife Stadium.
The wide receiver has been Rodgers' favorite target, and it's speculated that his return to Green Bay in 2021 happened only because of Rodgers. The super-productive QB-WR partnership will continue in New York, and the fans will get to see them in action for the first time on Monday night.
Buffalo Bills vs. New York Jets Prediction
Aaron Rodgers is 2-2 against the Bills, recording a total of five TD passes along the way. That's not too impressive, but it's not because he's not a great passer; it's because the Bills are superb defensively. They should be able to keep Rodgers & his new teammates to only a touchdown or two, but can they score against the Nets? Sure, they can!
With Josh Allen as their quarterback and Stefon Diggs in the wide receiver role, they're bound to score at least 20 points or so.
Pick: Buffalo Bills to win and cover the spread