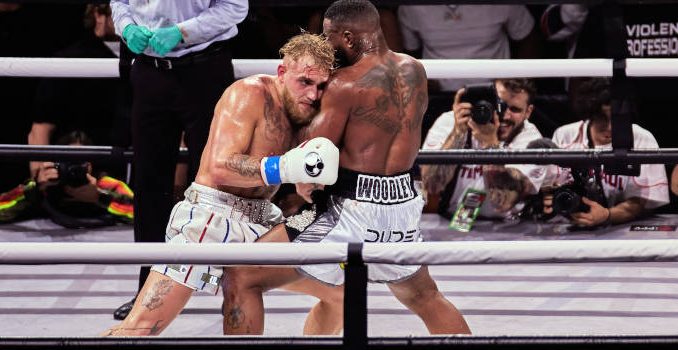 Jake Paul (6-1) is hoping to bounce back to the winning track after suffering a split-decision loss to Tommy Fury in February. This Saturday, he's locking horns with UFC legend Nate Diaz, who's never fought a boxing bout before. Knowing that this is Diaz's boxing debut, it's no surprise that the betting odds are heavily in favor of "The Problem Child."
Jake Paul vs. Nate Diaz Odds
| Moneyline | Odds |
| --- | --- |
| Jake Paul | -460 |
| Nate Diaz | +320 |
*Odds taken from FanDuel on Wednesday, August 2, 2023.
When, Where, and How to Watch?
Place: American Airlines Center in Dallas, Texas
Date: Saturday, August 5
Time: 10:00 p.m. ET
How to Watch: DAZN PPV
Jake Paul to Prove the World He's a Real Boxer
Experts say you need to spend 10,000 hours doing something to become great at it. Well, despite not being a professional boxer until 2020, nor having any serious martial arts training until 2018, Jake Paul has invested plenty of time to polish his boxing skills.
In 2023, he looks like someone who could do well inside the ring even against some established pros. However, the fact is that he hasn't fought too many established pugilists in his career. In fact, the only pro he's faced is Tommy Fury who beat him by a split decision a few months ago.
Before facing Paul, Tyson Fury's little bro had an 8-0 record, so even he cannot be considered elite. But is Paul's next opponent elite? Nate Diaz sure is an elite MMA fighter, but what about his boxing ability?
Odds Suggest Nate Diaz's Boxing Debut Will Be a Failure
Nate Diaz has never fought a boxing bout, but he did fight 34 MMA matches that involved a lot of striking. His overall MMA record is 21-13, with more than half of his wins happening by submission. The Stockton-based fighter only won five fights by KO/TKO, the most recent of which happened in 2013.
Throughout his UFC career, Diaz was averaging 4.57 significant strikes per minute, which is a pretty decent number. However, he used to also get beaten up a lot, absorbing 3.77 strikes per minute. He lost only two times by knockout (TKO to be precise), but it's because he fought in the lightweight (up to 155 lb) and welterweight (up to 170lb) divisions.
This Saturday, he's fighting Jake Paul in the cruiserweight division, in which the weight limit is 200lb, which is almost the equivalent of the UFC Light Heavyweight division where a fighter can be up to 205 lbs.
Jake Paul vs. Nate Diaz Prediction
Jake Paul is bigger and stronger than Nate Diaz. He's got the power and stamina, but his fighting IQ just isn't as high as that of Diaz. Nevertheless, considering that the 38-year-old former MMA fighter is making his boxing debut this Saturday, it probably won't matter much.
Prediction: Jake Paul to win by KO/TKO